Painted Paper Collage Workshop with Erin McCluskey Wheeler
In this workshop you will generate new ideas for creating abstract art and think deeply about color and composition through the fun, accessible medium of collage. You'll leave with a journal full of new techniques, finished pieces, and pages that will lead to further exploration and collage work.
We will experiment with color composition, layout, gluing and connecting techniques. You'll learn ways to connect forms and shapes with drawn and painted line work to elevate your collage work. We will start the week off by creating a set of hand-painted papers that we can use throughtout the week to add to papers we've brought from home and additional materials provided by the instructor. We'll look at examples of contemporary collage artists making abstract and figurative pieces with found and painted papers. Each class will have introduce a starting point for collage work and students will have time to continue to bulid on and combine techniques that speak to them.
This is a wonderful opportunity to re-purpose and give new life to old painting, drawings, prints, and photographs – if it's on paper and it's okay to cut it up – you can use it! Students are encouraged to bring old artworks they'd like to give new life to. Open to artists of all levels of experience.
Please bring collage material from home that you're interested in using. Please also bring with you your favorite mark-making tools: pens and/or pencils, and  small tubes (2ml of so) of acrylic paint in white, black, red, yellow and blue (and any other colors you have and love), paint brushes you have and love (if you don't have any, the instructor will provide).
Material fee $50 payable to the instructor will include a great pair of collage scissors you can keep, a heavyweight art journal to fill with art, some additional gouache paint and brushes to use, and lots of glue.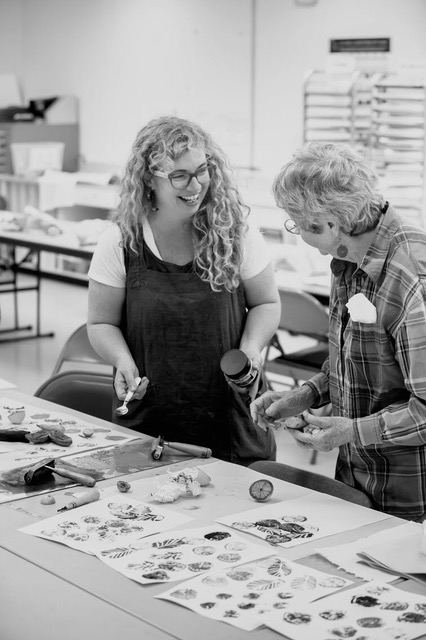 Bay Area artist Erin McCluskey Wheeler is known for her bright tropical-colored works that employ a meticulous assemblage of found papers often bound together with looping brushstrokes. With both an abstract and graphic style, Wheeler's works are sometimes symbolic or whimsical, and play with ideas of nostalgia and visual memories in a narrative context. Erin both sources found materials and creates her own painted paper collage material to create densely layered paintings full of light and space.
Wheeler has a BA in studio art, and a BA in art history from Beloit College, and an MFA in writing from California College of the Arts. Erin is represented by Jen Tough Gallery in Benicia, California and her paintings have been licensed through West Elm,  Minted, and Image Conscious Fine Art Publications. She is a member of the El Cerrito Art Association and beginning in November 2018, she will be the Artist in Residence at the El Cerrito Recycling Center. Erin teaches art classes with the Center for Community Arts in Walnut Creek and assists with public programs and events at the UC Botanical Garden. Find out more about her work through her website at erinmwheeler.com or follow her on Instagram @erinmwheeler.