The Light Within

A Spa for your Soul
Re-Discover the beauty within yourself and your life through the creative process of creating your own unique Mandala
What is a Mandala?
As human beings we explore meaning and sense and we try to intellectually put our experience into words – to define our discovery… There is a lot of literature out there that defines the meaning of a Mandala – and it's well worth reading !…
For myself and my sharing the Mandala with you, I have come to the point – to not complicate the simplest of things – but to break it down to the basic where we can embrace its simplicity and find our own truth…
The Mandala has appeared in the arts and the philosophies of every culture as an essential symbol of wholeness, integration, harmony, and transformation.
As the circle of life it symbolizes the different periods of our journey, picturing the interconnectedness between all things. An inspiration and reminder toward living our life with more mindfulness in our decisions.
A magnet to positive energy, the Mandala creates a sense of harmony in its environment. It invites us to reconnect with our inner source of energy where we can rejuvenate and find peace and tranquility in our thoughts.
Creating a Mandala
…is a playful journey in which the Mandala becomes the dance floor for our creativity and a place of meditation, joy and insight.
Every Mandala we create is a unique dance, expressing the momentum of our life through form and color. It is a meditative process, a process of surrendering to our creative being, revealing what lies with us.
The canvas becomes the foundation for our story to be told. The Mandala serves as the container for the story that our soul wants to tell. A story told through the formation of colors and patterns building the design of our creation.
For many of us, the journey to create a Mandala brings not only the joy of the creative process but also healing and understanding. Working creative transfers us into an environment where we can quiet our mind. In this state we are able to view and review our thoughts. A place where we can recognize what it is that really matters in our life. This awareness gives us the opportunity to change our perspectives , rejuvenate, heal and transform our life.
"Art washes away from the soul the dust of everyday life."
(Pablo Picasso)
What will we do in the workshop?
In this 5 day workshop you will create your own beautiful mandala. You will discover the mandala as a path to self-reflection and creative development within a nature setting and a circle of like-minded creative souls.
It is the different shapes and patterns built into symmetric connections that make each Mandala unique. – It is a joyful moment when you start to put your own designs into your circle – exciting to watch how it all comes together in a playful way.
Throughout the workshop we will have lots of playful tools to guide you on your creative journey and you will find plenty of material that will inspire you to choose patterns and colors and I will be there to support you in your creative progress. – As time flies by, you will be amazed at what you can create.
This workshops is designed for everyone, regardless of age, culture or belief and don't require any artistic skills or knowledge of mediums.
We will work on canvas with acrylic colors, shells, beads and paper.
A $45 materials fee is payable to instructor in first class meeting.
Supply List:
long ruler
compass
Pencil
Colored Pencils and/or Markers
Acrylic Paint + one Gold/Silver or Copper heavy body for background stencil Small to Medium Brush size for painting the Mandala
Big Brush to paint background
Little sponge for stencil
Pattern Stencil for background enhancement
Beads + Findings
Paper = suggested Papers : https://www.pinterest.com/marionmaenner/spirals-and-sparkles-workshop/
Shells (will be provided)
18"x18" canvas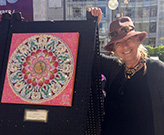 It must be my creative nature and the urge to explore and experience new aspects of life, leading me on a journey from being born in Germany to living in the San Francisco Bay Area today.
I have walked in many different shoes from fashion design to traveling to becoming a certified naturopath to creating my art, to becoming a mother. Life is my inspiration and my teacher. The urge to understand its lessons has led me to explore different philosophies and the teachings of our ancestors.
I adore the abundance and beauty that surrounds us. Beauty gives us joy and it lights up our existence – it fills us with passion and brings us back to our center when we get lost in life.
Creating my Artwork is my meditation, my time to reflect and process.
Every time I start to work
..it is the beginning of a new journey. Intuitive work from a place of timelessness and freedom, always going through the dynamic influences of the present moment, balancing through creating.
"I am devoting many hours of my life to create through diversity an art of unity. I wish to put little seeds into this world, seeds that grow into peaceful thoughts that will be carried on like prayers in the wind."