Exploring Material and Metaphor in the Artist Book with Leah Virsik
Susan Stewart, in On Longing: Narratives of the Miniature, the Gigantic, the Souvenir, the Collection, writes that "The metaphors of the book are metaphors of containment, of exteriority and interiority, of surface and depth, of covering and exposure, of taking apart and putting together."
Imagine a week full of learning a variety of book structures. Explore metaphor thorough filling a small book or two with personal content. Learn to make several small books from a single sheet of paper. Incorporate the camp environment, collaborate with other campers or create something meaningful for you.
In addition, make a variety of soft cover books with exposed spines including a modified Secret Belgian binding, a Buttonhole binding and a Crossed Structure binding. These books open flat and have multiple sections making them great for notebooks and sketchbooks.
Experiment with different ways to make covers: Momigami (kneaded paper that feels like cloth), fused plastic and painted paper. These techniques can be used to make alternative things in addition to covers. Additional materials will be available to make multiple versions of the same book to reinforce the techniques. Previous bookbinding experience is helpful, but not required.
Please bring the following materials: bonefolder, bookbinding awl available at: The Caning Shop, self-healing cutting mat, ruler and triangle or ruled square, i.e. Omnigrid, craft knife, i.e.: X-Acto knife with no. 11 blades, scissors, favorite mark-making tools: a pen and/or pencil. $30 materials fee will include a variety of papers, paints, Konnyaku and other supplies.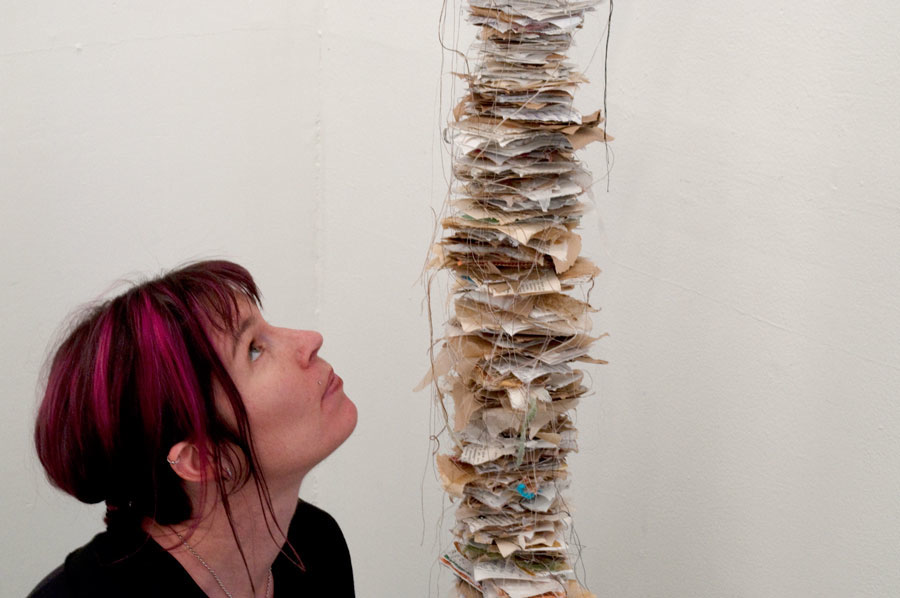 As an artist, Leah Virsik, enjoys the process of making things. A natural collector, she enjoys sharing her knowledge and resources.
In her teaching, she strives to meet students where they are. Optimistic and with a love for learning she's open to alternative possibilities when her creative explorations don't always go as planned.
Leah exhibits her work and teaches book arts and collage classes to adults in the San Francisco Bay Area. She's currently pursuing a MFA at San Francisco State University. Her work is most recently published in Lark's "500 Handmade Books volume 2".